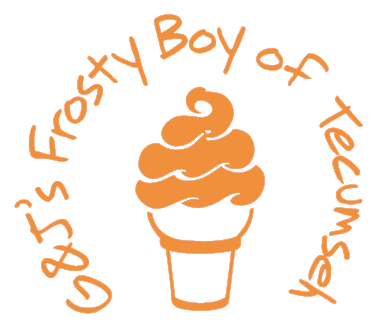 G&J's Frosty Boy is a small family-run business located in Tecumseh, Michigan. Originally called Frosty Boy of Tecumseh, it has been a local landmark for around 40 years. Current owners, Gina and John Nowak, purchased the business in August of 2017, and became official owners at the beginning of 2018.
With a focus on the community, G&J's mission is to have the best customer service in town. In 2019, we introduced our sign project. People can rent our sign for $20 for 24 hours and have a special message for someone such as a birthday wish, anniversary wish or even a prom proposal! Half of the cost is donated to a different charity or non profit of our choosing at the end of the month.
As for our menu, we serve a variety of different soft serve treats, including a non-dairy Dole option for our lactose intolerant friends and a no sugar added yogurt. We offer 4 different soft serve flavors with one rotating Dole flavor throughout the season. In 2019, we partnered with Musgrove and Company and started offering coffee drinks, which include a coffee float (ice cream with cold coffee poured over top), a coffee shake (coffee, shake mix, and ice cream blended), and a chiller (ice cream, coffee, and Oreo blended up and topped with whipped cream).
From spoons to straws, you're sure to find something you'll love!